The Race of
The Ark Tattoo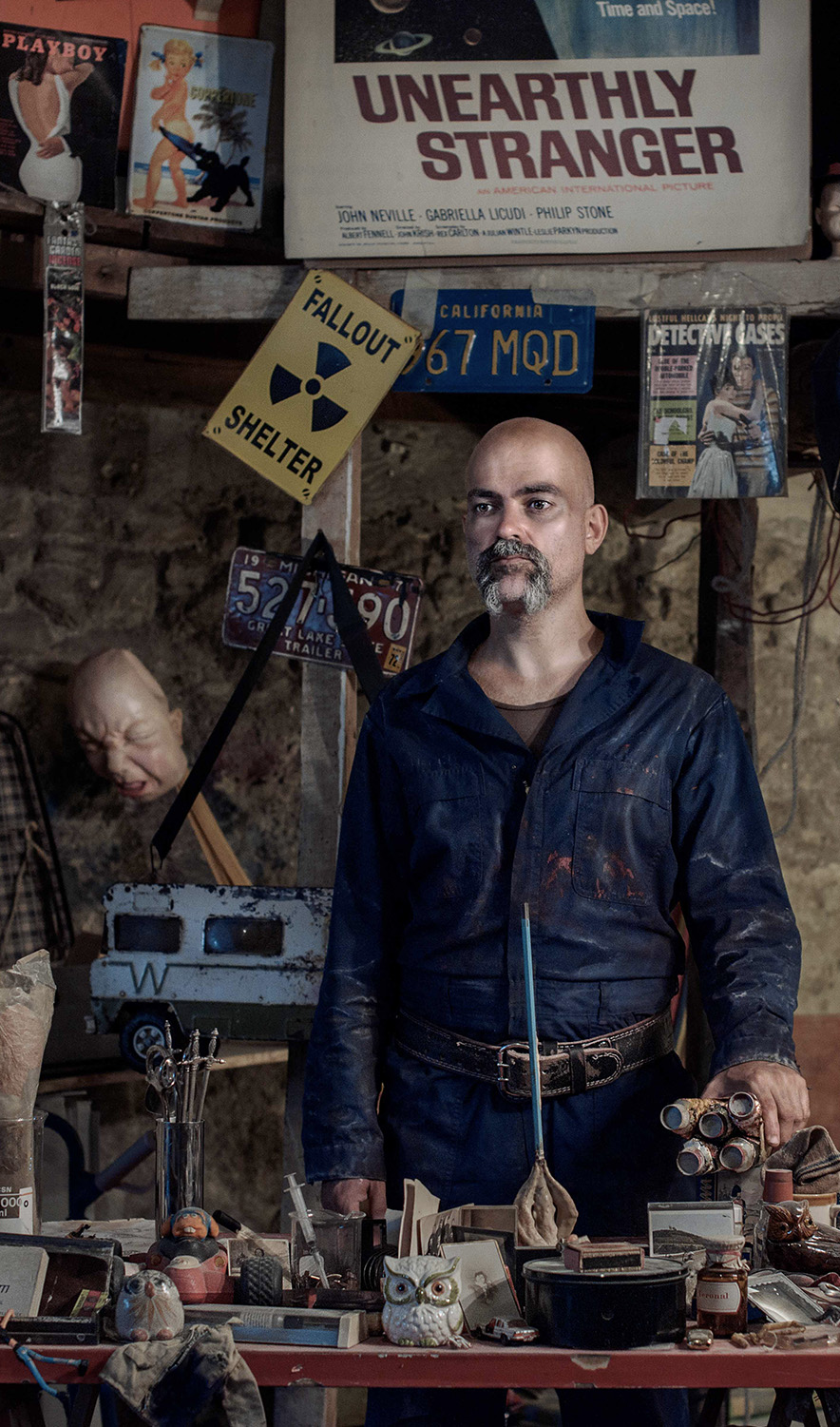 By
W. David Hancock
With
Nick Millett
Mise en scène
Nick Millett with Chris Mack
Translation
Chris Mack 
Nick Millett
Story cards
Nick Millett
Patricia Morejón
Installation
Nick Millett
Accessorist
Lucy Millett
Production, Programming, Assistant Director
Clara Normand
Video
Oriane Polack
Théo Dumouchel
On Tour 2012-2017
A garage sale. You go in, browse the junk, maybe buy something, if Foster, the American host, will sell. Sometimes he'll let you have something free. It's his memories that he's selling, this man with a memory of holes. He'll get you to play the same game that his foster father played with him and the other kids. He'll even have you meet his old man, Phinney. In this extraordinary flea market of the soul the hidden life of objects are revealed in random fashion, unpredictably unique with each opening.
Director's Note
Imagine Proust's madeleine sitting on an American highway, getting crushed by a truck and then being reincarnated in a kid's sport sock soaked in petrol and buried in the bric-a-brac of the garage sale you're now rummaging in. There, every object is a piece of the puzzle of Foster's life, carrying you off to Providence via the paranoid and macabre prism of American pop culture. The solution of this particular Hancocktion is utterly over-saturated: you get dark whiffs of Poe, Lovecraft, Delillo, amalgams of American Gothic, and, occasionally hilariously, as a bizarre head note, Heidegger crossed with Monty Python.
This was the stunning debut from the hugely but subterraneously influential W. David Hancock: "The most audacious and provocative playwright to emerge on the Off-Broadway scene in the '90s" (Village Voice).
"It's like walking into one of Christian Boltanski's installations, or into a Bernard Belluc at the Musée International des Arts Modestes in Sète. In this poetic and strange atmosphere begins our journey, guided by this original and striking actor [...] This text, full of poetry, finds its way into our hearts and its music still hums in our ears long after."
– Marie-Dp Moracchini, La Marseillaise
"The most original show in the whole Festival. The complicity with the audience is quite extraordinary and the stage design completely outlandish. This is a wonderful journey through time and memory. Nick Millett is a fascinating actor who is inhabited by the stories he tells: he entertains and intrigues us, but most of all, he moves us".
–  Télé du Off
"If you enjoy theatre, if you enjoy American mythology and if you enjoy objects that have histories, don't think twice about going to see Ark Tattoo: you will discover a world, you will discover an author, and you will discover one heck of a performer."
– Michel Flandrin, France Bleu Vaucluse
"This is not a show. It's an encounter, a friendly exchange, a theatre without lights, without video, a road movie of passing time where fiction plays with reality."
– Revue-Spectacles
"An utterly different theatrical dimension […] Nick Millett, the director of Ark Tattoo and of Circle Mirror Transformation, has this ability to transport the spectator into a fabulous world they never want to leave, they feel so good there."
– Le Bruit du Off
"Between profound delirium and incisive realism. A beautiful combination of audacity and imagination."
– L'Yonne républicain
Performances
Apr 2012 : Creative residency at the Espace En cours et at the Scène infernale (Paris 20th and 18th)
26 May  - 3 Jun 2012 : Scène Infernale (Paris 18th)
11 - 15 Jul 2012 : The Ogresse (Paris 20th)
23 Nov 2012 : Médiathèque de l'Europe (Bussy-Saint-Georges, 77)
24 - 27 Nov 2012 : The Ogresse (Paris 20th)
30 Nov - 2 Dec 2012 : Casa Poblano (Montreuil-sous-Bois, 93)
11 - 13 and 24 - 26 Jan 2013 : Théâtre de Verre (shows both in French and in English) (Paris 18th)
24 - 25 Apr 2014 : The Anis Gras (Arcueil, 94)
15 Jun 2014 : The Champs Mélisey (Mélisey, 89)
5 - 27 Jul 2014 : Théâtre de la Tâche d'Encre at the OFF festival of Avignon 2014 (84)
16 - 17 Aug 2014 : La Fabrique (Savigny-sur-Grosne, 71)
23 Aug 2014 : The Brocante de l'Espace Saint-Martin (Saint-Florentin, 89)
4 - 26 Jul 2015 : Garage de la Providence, in partnership with the Théâtre des Carmes (OFF Festival of Avignon 2015, 84)
11 - 13 Mar 2016 : Théâtre de l'Opprimé (Paris 20th)
22 - 24 Mar 2016 : Biennale d'Art Singulier (Dijon, Burgundy, 21)
11 - 12 May 2016 : Le Bled (Drôme, 26)
16 - 18 Oct 2016 : Association Théâtre Populaire de Carcassonne et de l'Aude
13 - 17 Jul 2016 : Gare au Théâtre (Vitry-sur-Seine) at the "Nous n'irons pas à Avignon" Festival
10 - 12 Mar 2017 : Christian Berst Gallery (Paris 3rd)
Everything is done in a classy, contemporary and minimalist way, to showcase what's really important and worthy when it comes to your art, business or personality.